THE TrueStep LEASE:
YOU FIX ELECTRICITY COSTS AND FORGO RATE HIKES.
Electricity rates aren't just high. They're increasing rapidly. Conserving electricity goes only so far- Solar offers an alternative source of electricity enabling you to:


Save money consistently
Safeguard against future utility increases
Help green the environment
Mission Capital's exclusive TrueStep Lease makes going solar as easy as it is business-smart and responsible. Your system can pay for itself with no impact on your cash reserves or cash flow.
Example of Projected Rates and Increases over 10-year Lease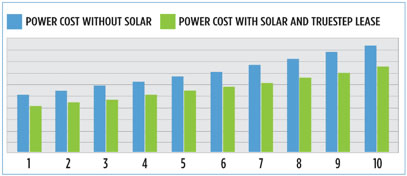 You fix monthly electricity costs for ten years at the lease payment. Gradually stepped payments keep your bills well below rising, and unpredictable, utility rates.

Total Financing

You get 100% financing of your installed system with nothing down and no money out of pocket.

It includes:

All equipment, materials and freight
Labor
Sales tax
Permits, fees and licenses
Deposits and progress payments to suppliers
Your capital reserves stay intact and your borrowing ability is preserved.
For more information, click on "contact us". To expedite a loan, click on "application".
We're here to help.

4787 Old Redwood Highway, Santa Rosa, 95403 Phone 707-431-2678 • Fax 707-431-8503